Review: The Postscript Murders
May 6th 2021
One of 2020's best-loved murder mysteries is now available in paperback.
Peggy Smith, 90, is a murder consultant. She spends her days devising gruesome crimes for writers up and down the country. So, when she comes to an abrupt end in mysterious circumstances, it seems that DS Harbinder Kaur has a new case on her hands…
LMR review:
The story of The Postscript Murders came about because of the author's Aunt Marge. When Marge moved from Norfolk to sheltered accommodation on the south coast somewhere near Shoreham, there was something in the sea air that made her think a lot about murder. She used to call up Elly Griffiths with plot ideas and pester her with gruesome gore and outlandish MO. It got Elly thinking: could such a thing as a murder consultant exist? And what if that person was a sweet, elderly lady living in a retirement home?
And so, The Postscript Murders was born. It follows the story (or rather, aftermath) of Peggy, murder consultant extraordinaire with a bookshelf of murder mysteries dedicated to her. When Peggy is herself victim of a killing, DS Harbinder Kaur is left somewhat puzzled.
Such a fun, race-through-the-pages murder mystery, peopled with brilliant characters and buzzing with personality, this is one for fans of cosy murder mysteries which are peppered with humour and salted with somewhat dreamy plots. Perhaps more Agatha Christie than Anthony Horowitz on the scale (and that's no insult) and definitely a brilliant read. It's got everything you might want – a victim who is a strangely complicated character, a romantic sub-plot, a fierce detective and a great location.
This is one of those cosy crime novels to curl up with on a Sunday afternoon and zip through the pages with endless cups of tea. It's clever, funny and so brilliantly put together, it had me guessing throughout. Anyone who loves a good whodunnit will fall in love with this one from the get-go. If like me, you felt a pang of sorrow when you realised you'd read every Christie ever written, you'll gladly welcome this addition to the cosy crime canon.
Style guide:
An easy read packed with slightly outlandish but fun twists and turns. Readers of Robert Thorgood's The Marlow Murder Club will enjoy this one for its light-heartedness and joyful plotting.
Extract:
The two men have been standing there for eighteen minutes. Peggy has been timing them on her stopwatch. They parked on the seafront just in front of Benedict's café. A white Ford Fiesta. Annoyingly she can't see the registration but, if she uses her binoculars, she can see a dent on the nearside door. If they have hired the car, the company will have taken a note of this. Peggy makes a note too, getting out her Investigation Book which is cunningly disguised as A Seaside Lady's Diary, complete with saccharine watercolours of shells and fishing boats.
There are several reasons why Peggy finds the men suspicious. They look out of place in Shoreham-by-Sea, for one thing. Sometimes, just for fun and to keep her observational powers honed, Peggy makes an inventory of people who have walked past her window.
[Peggy's notebook]Monday September 3rd 2018 10am–11am
7 x pensioners: 2 couples, 3 singles
1 x man on roller skates, 30s (too old)
4 x singles with dogs: 2 x collie crosses, 1 x pug, 1 x doodle (NB: people always remember dogs)
Woman, 30s, smartly-dressed, talking on phone
Man, sixties, carrying black bin-liner, probably homeless
4 x cyclists
2 x male joggers: one fit-looking, one looking on verge of collapse
1 x unicyclist (probably from Brighton)[/notebook]
The men outside her window do not fit this pattern. They are not cycling, jogging or accompanied by dogs. They are not pensioners. They are probably mid to late thirties, with short hair, wearing jeans and short jackets, one blue, one grey. What would young people call them? Bomber jackets? An ill-starred name if she ever heard one. The men look similar because of the way they're dressed but Peggy doesn't think that they are related. One is much darker-skinned than the other and built differently, compact rather than wiry. She doesn't think they're lovers either. They don't touch or look at each other. They aren't laughing or arguing – the two best ways to spot if people are a couple. They're just standing there, maybe waiting for something. Occasionally, The One In The Blue Jacket looks up at the flats but Peggy keeps back behind her curtains; she's very good at disappearing into the background.
All old people are.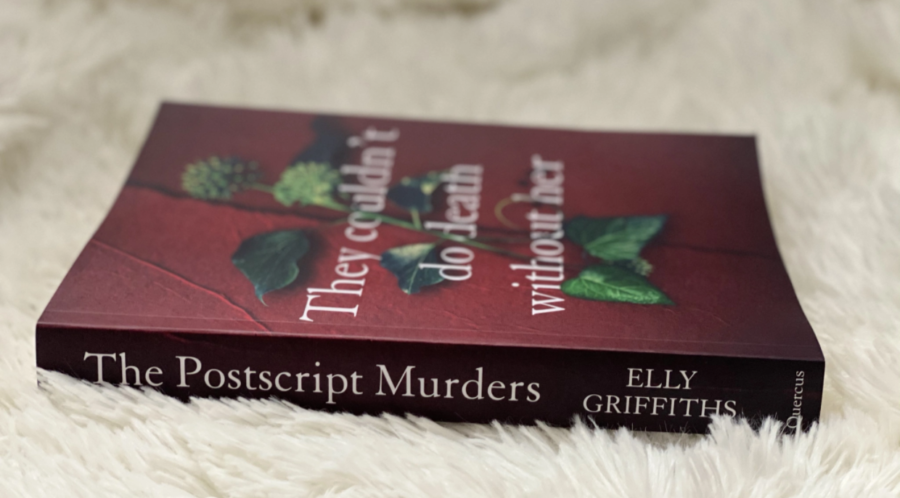 Media Reviews
'Elly Griffiths writes with a sharp, smart eye and great elegance . . . compelling, intelligent and increasingly mesmerising' -- Peter James
'One of my flat-out favourite contemporary suspense writers ... I turn each final page both deeply satisfied and ravenous for more' -- AJ Finn, author of The Woman in the Window
'Great on character and suspense' -- Val McDermid
Get The Postscript Murders now as part of your LoveMyRead subscription.

Related Articles