August's Picks For Children
Malorie, Frank and the LoveMyRead team have chosen the best new releases in each age category to unleash the imagination of your child.
Gift the book to a child you love or choose for your own child
August's best new children's books
Flip Flap Zoo
Axel Scheffler
Crazy creatures in this bonkers book of zany zoo animals from bestselling, award-winning illustrator, Axel Scheffler
What do you get if you cross an alligator with a moose? It's an alligoose, of course! And how about a camel with a hippopotamus? Why, that's a camotamus!
With over 121 possible creations, silly names and strange noises to make you giggle, this new Flip Flap book is perfect for preschoolers and ideal for animal fans. With a hilarious rhyming text and brilliant artwork from the illustrator of The Gruffalo and the Pip and Posy series, Axel Scheffler, simply flip the pages to create some seriously zany zoo animals!
LoveMyRead Review
A beautifully written book, perfect for animal lovers with adventure.
Available from: 5th August 2021
What it's like to be a bird
Tim Birkhead
Have you ever wondered what it would be like to fly? Or to live high in the tree tops? Or perhaps you've wondered what birds do when no one is looking?
Birds have some of the most extraordinary – and peculiar – behaviours on the planet.
Ravens love PLAYING games. In winter, they sledge down snow-covered rooftops on their bellies, getting faster and faster.
Partridges are SNEAKY and know just how to trick hungry foxes.
And honeyguides are HELPFUL. They help humans to find the sweetest treat in the forest – honey.
These are just some of the incredible stories you'll read in this book. With fascinating factual detail and playful storytelling from ornithologist Tim Birkhead and vibrant, personality-filled illustrations from Cat Rayner, this book captures what it's really like to be a bird.
LoveMyRead Review
An absolutely absorbing book.
Available from: 19th August 2021
Wayside School Beneath the Cloud of Doom
Louis Sachar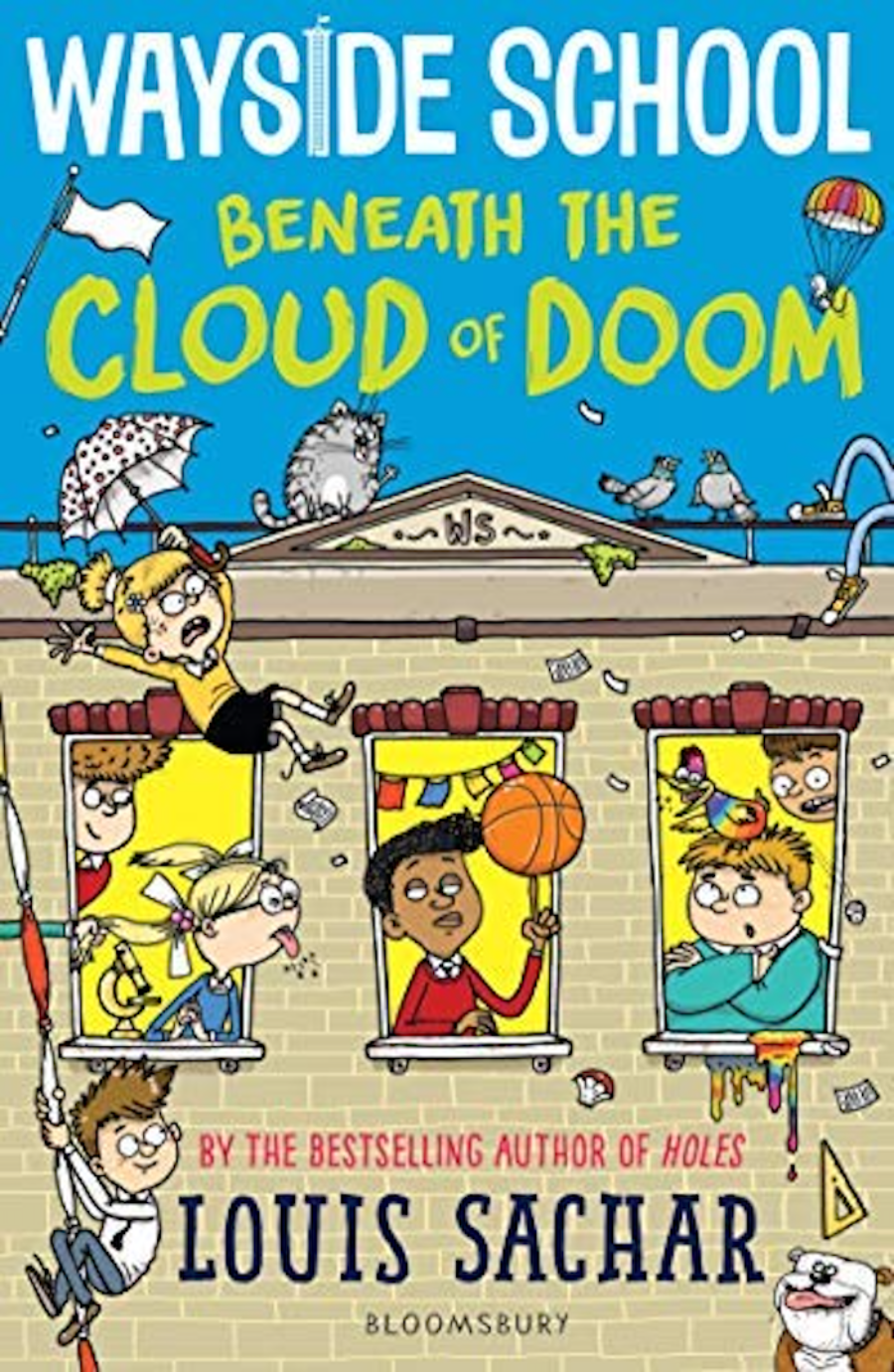 It's a new year at Wayside School, and Mrs Jewls's class on the thirtieth floor has a LOT to deal with. First of all, they must prepare to face The Ultimate Test, which involves a fiendishly difficult Spelling Bee, upside-down singing and blindfolded smelling. Meanwhile the paperclips are triple-locked in a safe so no one can access them, Miss Mush is threatening to serve rainbow stew for lunch – and a CLOUD OF DOOM is gathering over the school. It can only mean one thing … the kids at Wayside School are in for their strangest year yet!
From the basement to the thirtieth floor, Wayside is packed with quirky and hilarious characters who are all brought to life in this brand-new instalment of Louis Sachar's much-loved Wayside School series. With brilliant illustrations throughout, this is an unmissable, irrepressible story of mixed-up mayhem from the bestselling author of Holes.
LoveMyRead Review
This wacky story, like other books in th series, is made for kids who feel like they're the normal ones navigating school around an absurd bunch of grown-ups.
Available from: 5th August 2021
The Wild Before
Piers Torday
According to a dream passed down from animal to animal, if the calf dies, a great terribleness will come - rising seas, a plague, skies raining down fire, the end of all things... and Little Hare vows to persuade all the animals to protect Mooncalf, whatever the cost.
But it's easier said than done, and soon Little Hare realises that he is the only one who can save the world...
A stunning prequel to the award-winning, bestselling The Last Wild trilogy, touching on timely themes of climate change, friendship, and above all, hope.
LoveMyRead Review
This stunning animal adventure…an unforgettable story of hope and friendship
Available from: 19th August 2021