October's Books
For Adults
The Windsor Knot
SJ Bennett
The first book in a highly original and delightfully clever crime series in which Queen Elizabeth II secretly solves crimes while carrying out her royal duties.
The morning after a dinner party at Windsor Castle, eighty-nine-year-old Queen Elizabeth is shocked to discover that one of her guests has been found murdered in his room, with a rope around his neck.
When the police begin to suspect her loyal servants, Her Majesty knows they are looking in the wrong place.
For the Queen has been living an extraordinary double life ever since her coronation. Away from the public eye, she has a brilliant knack for solving crimes.
With her household's happiness on the line, her secret must not get out. Can the Queen and her trusted secretary Rozie catch the killer, without getting caught themselves?
LoveMyRead Review
An utterly bizarre but brilliantly hilarious book. The Crown meets Miss Marple in this strange tale of mystery and adventure undertaken by Her Majesty The Queen. It's witty to the point of almost being outrageous but the jokes are always handed out with love and affection. The writing sizzles with observational humour and great character study. A fun, accessible read with more than a dash of loveable humour and whipcrack wit.


Available from: 15th October 2020
The Illustrated Child
Polly Crosby
Romilly lives in a ramshackle house with her eccentric artist father and her cat, Monty. She knows little about her past – but she knows that she is loved.
When her father finds fame with a series of children's books starring her as the main character, everything changes: exotic foods appear on the table, her father appears on TV, and strangers appear at their door, convinced the books contain a treasure hunt leading to a glittering prize.
But as time passes, Romilly's father becomes increasingly suspicious of everything around him, until, before her eyes, he begins to disappear altogether.
In her increasingly isolated world, Romilly turns to the secrets her father has hidden in his illustrated books, realising that there is something far darker and more devastating locked within the pages…
The truth.
The Illustrated Child is the unforgettable, beguiling debut from Polly Crosby.
LoveMyRead Review

This book shimmers with vitality and feeling. It's totally magical. The relationship between Romilly and her dad is gorgeous and the simplicity of the prose makes the reader feel like this will become a classic akin to Dodie Smith's I Capture The Castle. I read this book dreaming of the pages of Romilly's picture book – the richness of its colours and detail and finished it overwhelmed by the sadness of her father's situation and the strength of Romilly's imagination. If this is Polly Crosby's debut, I'm definitely excited to see what's next from her.
Available from: 22nd October 2020
Should We All Fall Behind
Sharon Duggal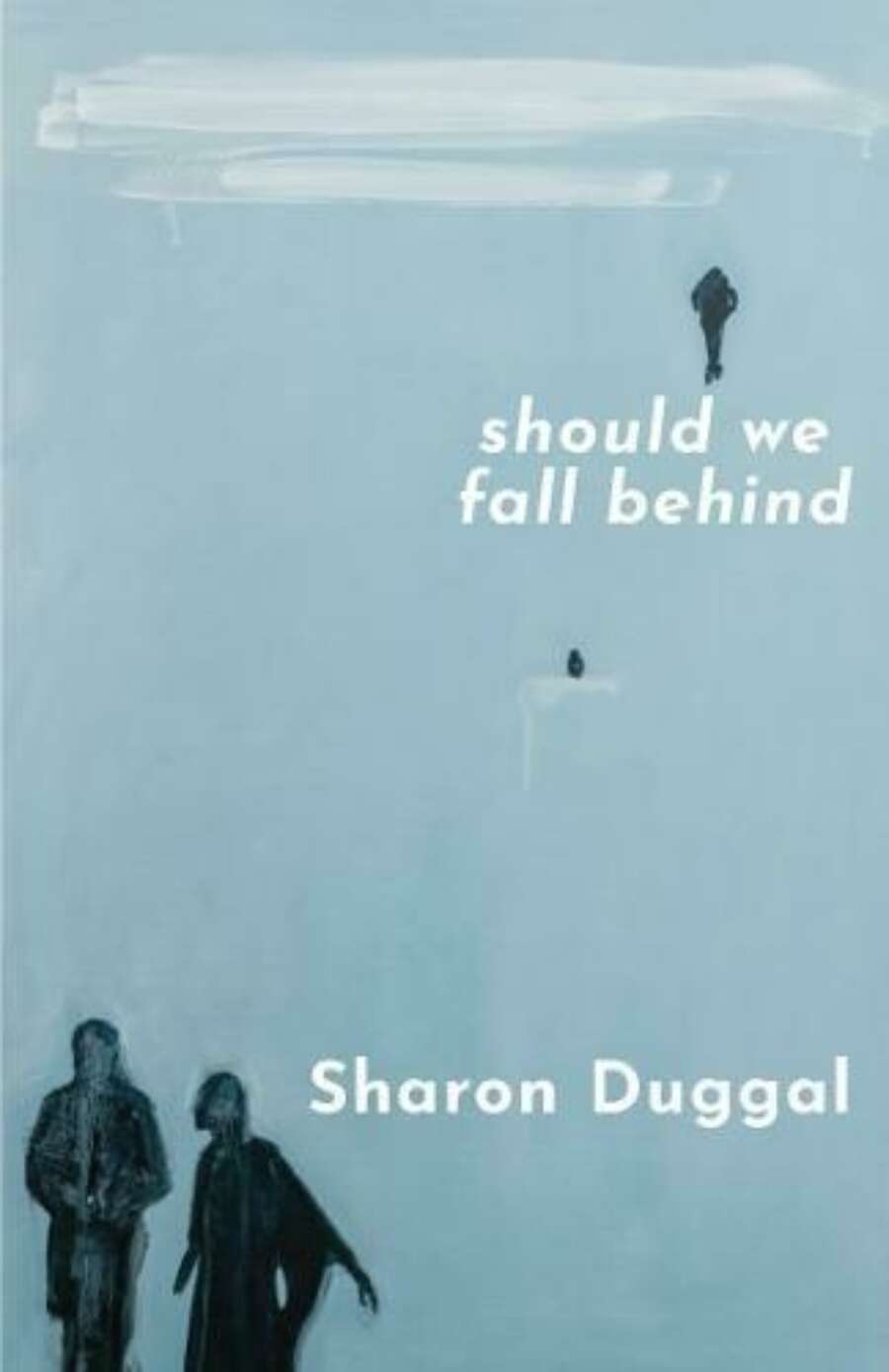 Jimmy Noone escapes his difficult life in a small town and finds himself living on the streets of a big city where he meets Betwa, who brings with her a chance of real friendship and a glimpse of new hope. Betwa disappears and Jimmy walks across the sprawling metropolis searching for her.
He arrives on Shifnal Road on the other side of the river where people from all over the world live side by side yet some inhabitants are so isolated they seem to have disappeared altogether. Jimmy becomes the catalyst for their lives colliding.
Journeys to the street and to the city are retraced, so too are stories abundant with lost dreams, unrivalled friendship, profound love and stifling grief, each underpinned with the subtle threads of commonality which intersect them all.
Should We Fall Behind is about the passing of time, and the intricate weaves of joy and suffering, love and loss which shape human life along the way. It is about the people who have somehow become invisible, and how their stories make them visible once more.
LoveMyRead Review
This book might be simple but it's honest and heart-wrenchingly beautiful. I cried through the pages of Rayya's self-effacing kindness and as all these disparate characters, strangers living next door to one another, revealed their secret pain and came together in better understanding. There are no fireworks, no great drama or busy plot devices but this book is the most honest portrayal that I have read in a long time, of the life that so many people live in London. Simply, gorgeously, beautifully outstanding.

Available from: 22nd October 2020
A Life On Our Planet
David Attenborough
See the world. Then make it better.
'I am 93. I've had an extraordinary life. It's only now that I appreciate how extraordinary.
As a young man, I felt I was out there in the wild, experiencing the untouched natural world - but it was an illusion. The tragedy of our time has been happening all around us, barely noticeable from day to day - the loss of our planet's wild places, its biodiversity.
I have been witness to this decline. A Life on Our Planet is my witness statement, and my vision for the future. It is the story of how we came to make this, our greatest mistake - and how, if we act now, we can yet put it right.
We have one final chance to create the perfect home for ourselves and restore the wonderful world we inherited.'
All we need is the will do so.

LoveMyRead Review

I defy anyone to read this plea from Sir David Attenborough with dry eyes. This should be compulsory reading for every person around the world. For it is, undoubtedly, the most important book that will be published this half century.
Available from: 1st October 2020
Loud Black Girls
Yomi Adegoke & Elizabeth Uviebineané
Now that we've learnt how to Slay in our Lanes, what's next?
Yomi Adegoke and Elizabeth Uviebinené, authors of the acclaimed Slay in Your Lane: The Black Girl Bible, invite the next generation of black women in Britain – authors, journalists, actors, activists and artists – to explore what it means to them to exist in these turbulent times.
From assessing the cultural impact of Marvel's Black Panther, to celebrating activism in local communities. From asking how we can secure the bag while staying true to our principles, or how we can teach our daughters to own their voices, to reclaiming our culinary heritage, the essays in Loud Black Girls offer funny touching and ultimately insightful perspectives on the question of 'What's Next?'
Foreword by Bernardine Evaristo.
LoveMyRead Review
This is a bold, important book. The essays are written with power and strength and the observations within are important and timely. Each essay addresses black identity with depth, clarity and grace. A must-read for all humans.
Available from: 1st October 2020
The First Woman
Jennifer Nansubuga Makumbi
Smart, headstrong Kirabo (named after "Eve" in Ugandan mythology) is raised by her grandparents in rural Uganda. But as she enters her teens, she starts to feel overshadowed by the absence of the mother she has never known.
At once epic and deeply personal, THE FIRST WOMAN is the bold and piercing story of one young girl's discovery of what it means to be a woman in a family, a community and a country that seem determined to silence her.
A timeless, universal story, with a contemporary feminist message, THE FIRST WOMAN portrays an unforgettable group of headstrong, independent women. Steeped in the rich folklore of Uganda but with an eye firmly on the future, Jennifer Makumbi has written a sweeping, effervescent tale of longing, femininity, and courage.
LoveMyRead Review

This is a book about women: their strengths, their flaws, their futures. Jessica Nansubuga Makumbi finds in Ugandan mythology the perfect vehicle to talk about women in a way that's purposeful and moving. Her depiction of the child Kirabo, is masterful. The reader feels the strength of her character and stumbles through with her as she arrives at adulthood. This is a book brimming with energy and life. It's educational not because the writer preaches but because she lays before us what there is to preach about. Atmospheric, engaging and beautiful. A completely intoxicating read.
Available from: 1st October 2020